Fund Raising

Our fund raising, which culminates in the annual charity day, starts with our February golf day though our Charity Committee meets regularly throughout the year to discuss new ideas.
In recent years we have raised between £20,000 and £30,000 each year. The main focus for the fund raising is to donate to the The Royal Marsden Cancer Charity, with donations being made to other similar charities in particular circumstances.
Fund raising within BAGS has been a key activity since 1995 and we are very proud that in the past 25 years the total raised has exceeded £450,000.
With increasing longevity, cancer continues to affect many people either directly or indirectly through a loved one. Yet each year more battles are won against this illness and much of this progress is due to the research and treatments developed at The Royal Marsden. Time and again, we hear people express their appreciation for the efforts this organisation has made in supporting the indiviual themselves or their close relatives.
To maintain this, the Royal Marsden needs a constant supply of funds from organisations such as our own and though the amounts needed are huge - their 3 year target is £100 million - we find it more motivating to concentrate each year on a single project
Those of us lucky enough to be fit to play in the annual charity golf day and other golf events should be inspired by the work done by our chosen Charity.
The BAGS Charity Committee would like to thank everyone who has been involved, including the players, helpers, clubs who have donated vouchers for rounds of golf for auctions and prize, and the many people and organisations who have sponsored events and donated prizes. The committee will continue to ensure future events are enjoyable and successful so those who are less fortunate than ourselves are given direct support to combat and hopefully conquer their illness.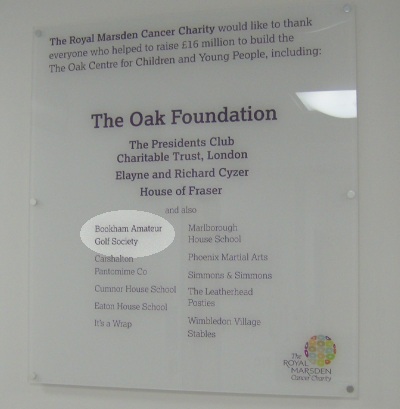 Charity News 2019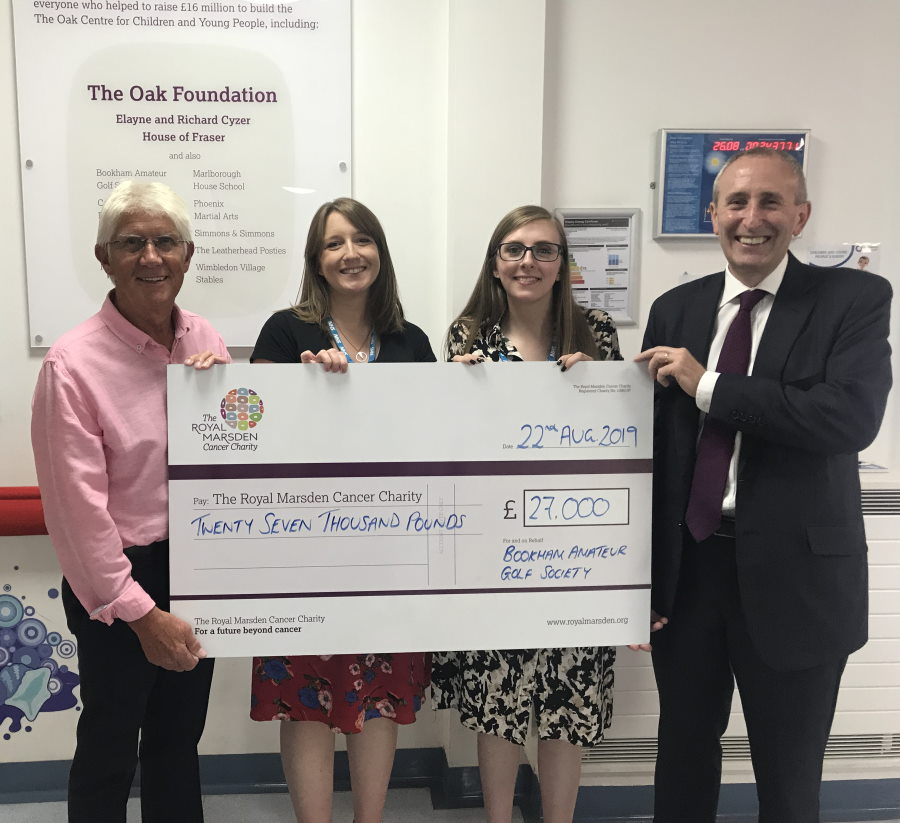 Lydia, from The Royal Marsden Cancer Charity, said: "We are so grateful for BAGS' continued support for The Royal Marsden, and for all of the hard work that goes into making the charity activities a huge success each year. The money raised in 2019 will fund three Neoprobes, which are used as part of a surgical procedure to help the oncology team determine whether cancer has spread beyond the primary tumour into the lymphatic system. We look forward to working with BAGS again next year to raise even more vital funds for The Royal Marsden".
Charity News 2018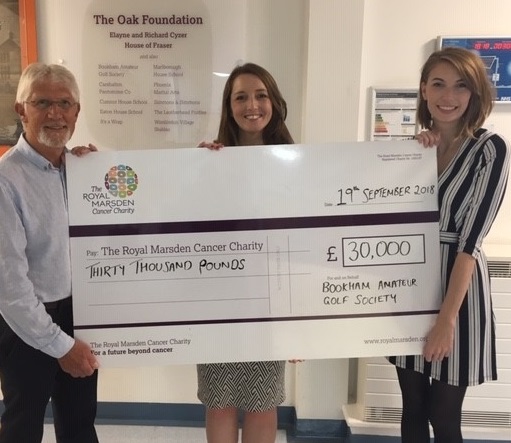 Lydia, from The Royal Marsden Cancer Charity, said: "On behalf of everyone at The Royal Marsden I'd like to say a huge thank you to Bookham Amateur Golf Society for once again raising an amazing amount. This year the money will help fund a dual-energy X-ray absorption (Dexa) scanner, which will measure bone mineral density and can help detect if cancer has spread to the bones. This will make a huge difference to patients at both the Sutton and Chelsea Royal Marsden sites."
Charity News 2017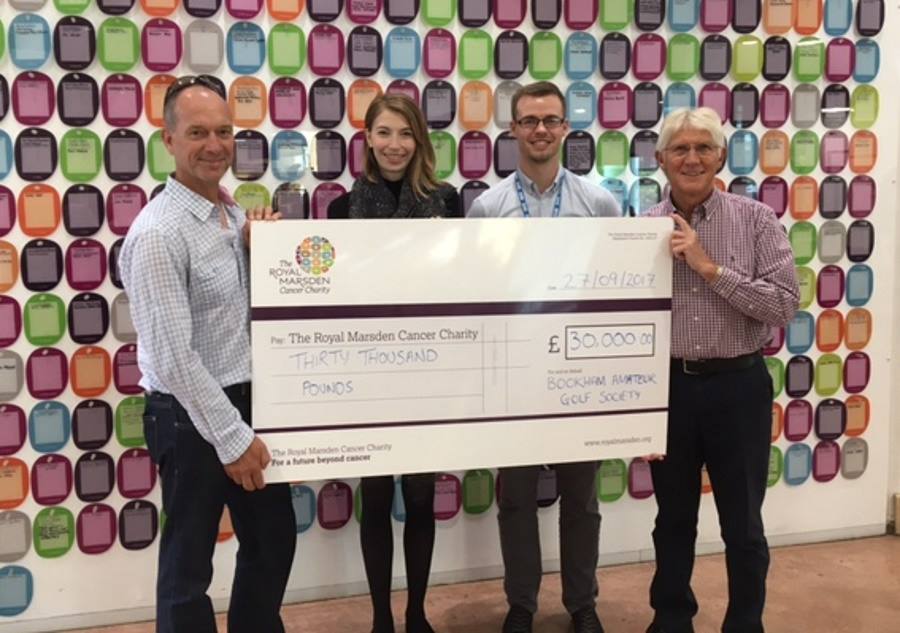 Aaron, from The Royal Marsden Cancer Charity, said: "We are so grateful to Bookham Amateur Golf Society for raising an incredible £30,000 for us, which will help support our Robotic Surgery Fellowship programme. This new programme is the first of its kind in the country, training the next generation of surgeons to use our state-of-the-art surgical robots."
Charity News 2016
Novel and Better Targeted Treatment of Cancers
Last year we had the opportunity to fund a complete project which was looking at more personalised treatment of a particularly aggressive cancer called Rhabdomyosarcoma. This cancer affects children and adolescents, where the survival rate is poor, and the goal is to improve the outcome for these patients.
Our record amount of £28,000 last year provided the money to set up new patient derived models by using fresh tumour samples donated by patients at the Royal Marsden, and to date one model is now fully established and 3 more are at various stages of the development process. Over the coming year, the aim is to continue the current development, and to start making one or two additional models, in order to produce new and better treatments for patients. The results will then be part of a shared national and international resource.
This project is being run jointly by the Royal Marsden and the Institute for Cancer Research, and the photograph below shows members of the project team receiving the balance of £23,000 from BAGS, following the initial &pound:5000 from Mike Christieson of Atlantic Trading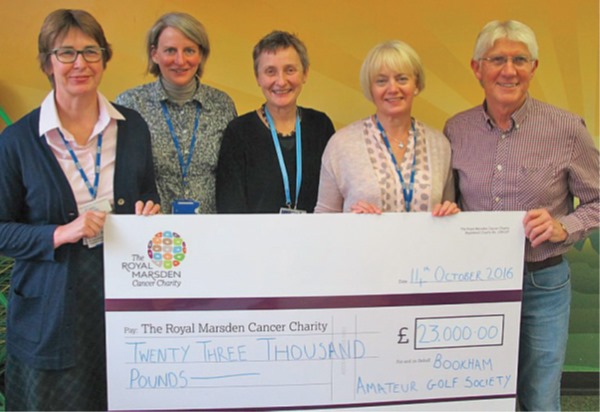 Charity News 2015
2015 Target Project - Deep cleaning kit for The Royal Marsden
The Oak Centre for Children and Young People at The Royal Marsden Hospital, Sutton is a state-of-the-art specialist cancer treatment facility where recent advances in technology and internationally forefront research combine for the benefit of their young cancer patients in a comprehensive way. Treatment is tailored to each young patient's specific needs and administered within a family-centred environment where health, educational and social needs are embraced by a strong multidisciplinary team.
When the young patients arrive to be admitted, the team have to get them into their rooms as quickly as possible to minimise stress and infection. However, before they can be admitted their rooms have to be 'deep cleaned' to ensure that there is minimal risk of infection from C.diff or MRSA, germs can kill these vulnerable young patients. A deep clean can take 2 - 4 hours or even longer if the cleaning team are busy elsewhere.
120 hospitals in the USA are now using a piece of equipment which can reduce this cleaning time to 10 - 20 minutes and clean to a 99.9% level free of problems. (It even gets into corners and all the little nooks and crannies.) This ensures a quick transition to the ward to the benefit of the patient. This innovative piece of kit is a Clinell UV-360.As you'd expect, this equipment is expensive but its impact on young lives whilst at their lowest is considerable.
We are delighted that the proceeds of the 2015 BAGS Romain Royal Marsden Charity Day will help purchase this vital piece of equipment for the Royal Marsden.
Previous Charity News
Kamran's Ward, The Children's Hospital, Oxford
A letter of thanks has been received from Kamran's Ward in Oxford which benefited from the kind donation of £2000 as part of BAGS fund raising in 2013. The money has helped establish a teenager facility and an outdoor area. The children in the ward are often there for days or even weeks at a time and because the chemotherapy drugs are very toxic they can not leave the ward for a wander around the hospital or to go outside.
The teenager room allows the older children to enjoy an environment which feels more grown up than the rest of the ward and includes an outdoor decking area which was very welcome this summer. The photos below show Peter Marshall making the most of the facilities and beating his Dad at table tennis even while connected to his drip.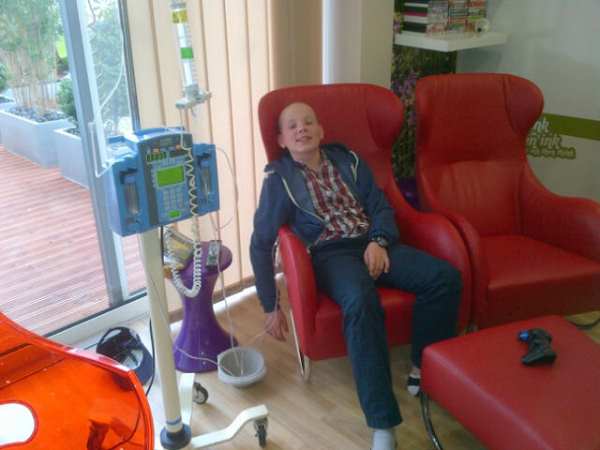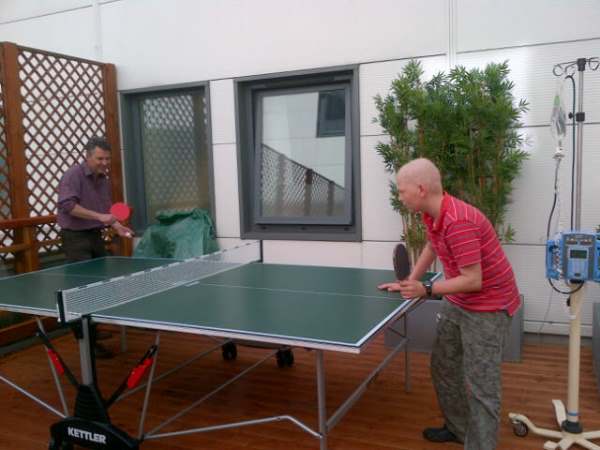 Turf Moor Links - Chris and Steve Little
Chairman Roger Boychuk opened Turf Moor Links with a scintillating round on Friday August 23rd 2013. He will hold that course record because the par of the course has been changed over the weekend to 56 and Andy Harper now holds the course record with a 57. It is a challenging course and a test for any golfer so come along next weekend 30th and 31st August and Sept 1st - all profits to our charity - it takes 20 minutes to play followed by a long chat over a cuppa and super home-made cake or bacon rolls in the 19th cafe run by Chris Little.
The project raised a magnificent £1050 from BAGS members and other friends of the Littles and Chris is shown presenting the cheque to Amanda at the Royal Marsden.
Chris & Steve wish to thank all those involved for their support in this project. We congratulate them both on this initiative which has provided fun for the participants and valuable funds for the RM.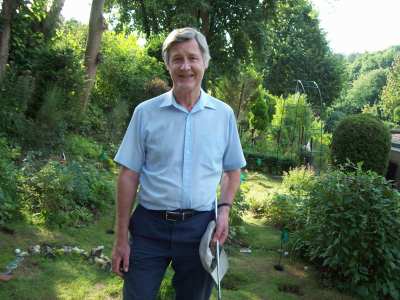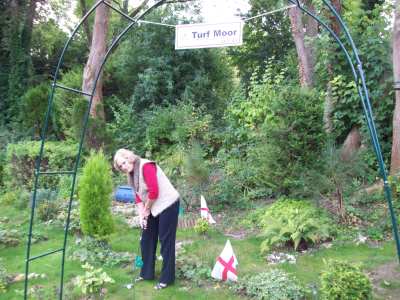 The Opening of the Royal Marsden Centre, 29th September 2011.
Official Video
BAGS included in the list of supporters in the entrance hall.